Developing Constitutional and Effective Policies
Law enforcement operational standards dictate that police departments develop and maintain sound and proper policies and procedures.
Services
Policy Development
The policies and procedures of Police Departments across the United States are the core liability protectors of the agency.
Policies that are comprehensive and current are the backbone of effective and constitutional policing. It is not enough, however, to simply have sound policies. Officers must be trained on the policies, supervisors must hold officers accountable, and, when the policies are violated, a sound disciplinary process should be engaged.

A Police Department's policies and procedures shall reflect and express the Department's core values and priorities, while providing clear direction to ensure that officers lawfully, effectively, and ethically carry out their law enforcement responsibilities. Daigle Law Group developed the Policy Center to meet the increasing need of Police Departments across the United States. We are dedicated to working with Departments to develop sound, effective policies based on constitutional accreditation standards.

Daigle Law Group operates under a philosophy that every Police Department is unique in its operation and structure. We work to mold proper standards into the operation and structure of the individual agency. Our clients range in size from small to very large departments, each with unique challenges.
Comprehensive
The backbone of effective and constitutional policing.
Values
Reflect your department's core values and priorities.
Philosophy
Every agency is unique in their operation and structure.
Services
Accreditation
As the demand for law enforcement agencies to become accredited increases, the Daigle Law Group will work with Departments in obtaining their accreditation and compliance goals.
The Daigle Law Group has extensive experience in developing, implementing, and maintaining law enforcement policies which meet state and national accreditation standards while ensuring Departments comply with constitutional policing requirements.

Accreditation compliance is a time-intensive endeavor for any Department. The Daigle Law Group will work with Departments throughout their accreditation process to provide expertise, guidance, and support.

The Daigle Law Group has developed multiple levels of service to meet individual Department's needs. Whether your department is new to accreditation or an accreditation veteran, let the Daigle Law Group assist you in a developing a strategy to achieve your accreditation and compliance goals.
Webinar
Accreditation 101
The Daigle Law Group Accreditation 101 free webinar training is a broad overview of law enforcement accreditation for department members at any level. For Accreditation Managers, this will be a review of process that you are well aware; for CEO's and command staff, this should provide with information regarding the full extent of your current or future accreditation endeavors.
White Paper
Developing Constitutional & Effective Policies
Daigle Law Group, in collaboration with and PowerDMS, began this project by identifying, evaluating and collecting examples of best practices related to policy writing. Based on our review, we hosted a select group of law enforcement industry experts for a Law Enforcement Policy Development Summit. These individuals joined together to identify accepted and recommended practices to develop and distribute policies and procedures, ensuring effective and constitutional operations.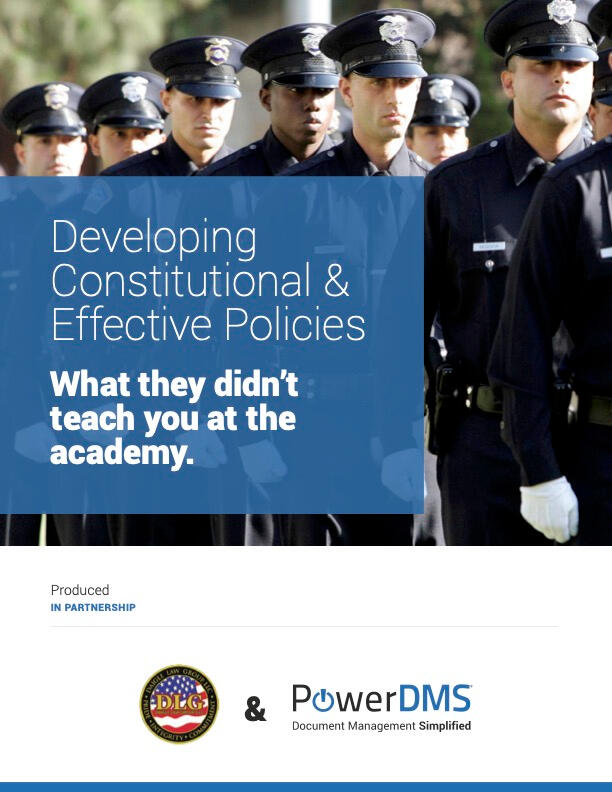 Get In Touch
Free Consultation
Contact us now to discuss your policy project. We typically respond within 1 business day.
This site is protected by reCAPTCHA and the Google Privacy Policy and Terms of Service apply.
Thank you!
Our team will be in touch shortly. Learn more about us at the following links:
Free Registration
One-day Virtual Accreditation Training Class